Digital Signage Kiosk (Interactive Kiosk)
Mydia's Digital Signage Kiosks are advanced interactive displays that provide a new level of engagement for customers in various industries. These kiosks are designed to improve customer experiences and drive sales, making them a valuable addition to any business.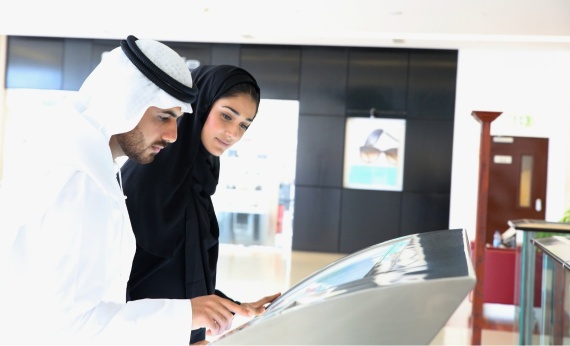 Digital Signage Kiosks are an impactful tool for businesses across various regions in the Middle East, including Dubai, UAE, Saudi Arabia, Riyadh, Abu Dhabi, Kuwait, Qatar, Doha, Bahrain, Oman, and Egypt, who aim to enhance customer engagement and improve overall customer experience. Mydia offers customizable digital signage kiosks in a range of sizes, from small countertop displays to larger free-standing kiosks, to cater to the specific requirements of each business.

These interactive kiosks are equipped with high-definition touchscreens that enable customers to effortlessly engage with the kiosk and quickly access the information they need. With Mydia's digital kiosk solutions, businesses in the Middle East can create engaging experiences for their customers that drive sales, streamline operations, and enhance customer satisfaction.
Applications of Digital Signage Kiosks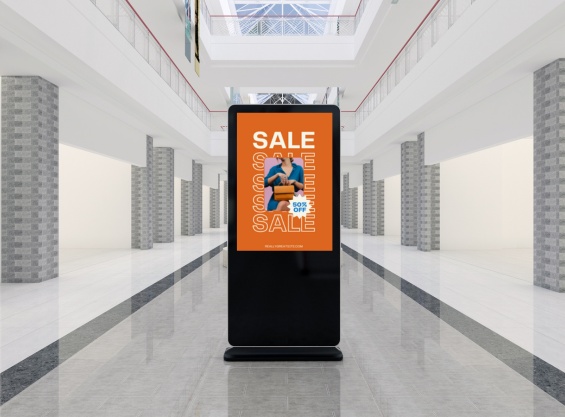 Advertising
Interactive kiosks are widely used for advertising purposes. By placing them in high-traffic locations such as malls, airports, or train stations, businesses can effectively reach out to their target audience. These kiosks can display advertisements, promotional videos, or other marketing content. Interactive kiosks are also equipped with touchscreens, which allow customers to interact with the displayed content.
Mydia offers customizable interactive kiosk solutions to cater to the unique needs of businesses looking to create impactful advertising campaigns. This interaction can be used to gather valuable data such as customer preferences or contact information, which can be used for future marketing campaigns.
Wayfinding
Digital signage kiosks can be used as wayfinding tools in large public spaces. They can display maps and directions, highlight important landmarks, and even offer turn-by-turn navigation.
For example, In hospitals, interactive kiosks can help patients and visitors find their way to specific departments, clinics, or offices. In airports, they can help travelers navigate through terminals, find their boarding gates, or even locate their luggage.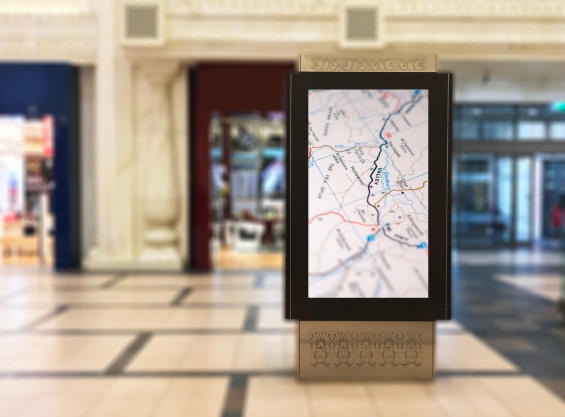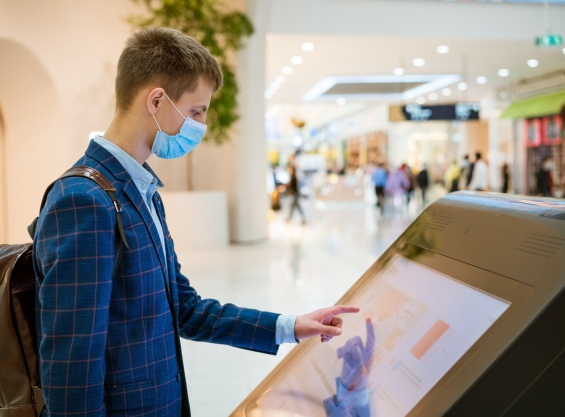 Information Sharing
Interactive kiosks can be used to display information about products, services, and events. They can also display news, weather, and other relevant information.
For example, in retail stores, interactive kiosks can be used to showcase product catalogs, pricing information, and customer reviews. In hospitals, kiosks can display information about medical procedures, patient safety guidelines, and health-related news.
Self-Service Transaction
Digital signage kiosks can be used to perform a variety of self-service transactions, such as ticket purchases, check-ins, and bill payments. For instance, in movie theaters, interactive kiosks can be used to purchase tickets and select seats.
In hotels, they can be used for self-check-ins, room reservations, and even concierge services. In restaurants, interactive kiosks can be used to place orders, customize menu items, and pay bills.